Visit this page often to stay up to the date on our newest policies and download our fact sheets. Click on the image to open the pdf.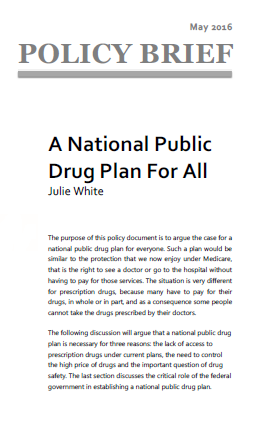 National Public Drug Plan for All
May 2016
Author Julie White brings together many of the academic studies showing the financial savings, improved drug safety, and increased equality that would occur under a national public drug plan. Canada remains the only country with a universal health system that doesn't include prescription medicines. Learn more on this important issue with our policy brief.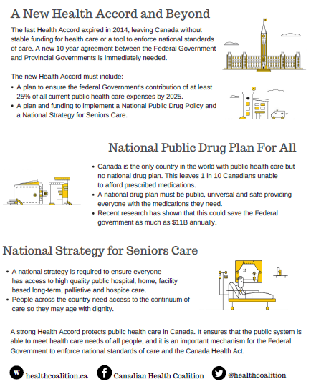 A New Health Accord and Beyond
January 2016
The last Health Accord expired in 2014, leaving Canada without stable funding for health care or a tool to enforce national standards of care. A new 10 year agreement between the Federal Government and Provincial Governments is immediately needed and must include a national drug plan for all and a national strategy for seniors care. Get informed with our one pager.
Mythbusters: Paid Plasma Donation 
April 2016
In the early 1980s, Canadians learned that their blood supply had become tainted with HIV and Hepatitis C. Canadians lost faith in the blood collector at the time, the Red Cross. Canada's government created a new arm's length agency, Canadian Blood Services and authorized them to implement the recommendations of Justice Horace Krever which require blood be collected by only non-remunerated, voluntary donors. Now, it is the goal of the World Health Organization and many other international health agencies to have 100% voluntary blood and plasma collection globally by 2020. Today, a new private, for-profit company called Canadian Plasma Resources is collecting plasma from people in Saskatchewan and giving them a $25 gift card in exchange. Get informed on this important issue with our mythbusters.
Healthcare decoder: The hidden agenda behind the words
Updated in September 2016
European model? Sustainability? Opponents to public health care attempt to shift the language. Don't be fooled, get informed with our health care decoder.

Mythbusters: Federal Health Transfers
April 2014
In the interest of generating a national debate on the federal decision to allow the Health Accord to expire, the Canadian Health Coalition encouraged Canadians to contact Members of Parliament to share their concerns in 2014. Several government MPs used arguments we find misleading in replying to their constituents. Take a look at our mythbusters to see some examples and the facts.