Cambie Surgical Centre et al. v. Medical Services Commission et al.
Overview
The core values of Canada's public health care system are being challenged in a lawsuit against the British Columbia government brought on by Dr. Brian Day, founder and medical director of Vancouver's Cambie Surgery Centre.  The same physician who is billing the province for services patients already paid for, Dr. Day and other privatization proponents claim provincial health legislation, and subsequently the Canada Health Act, violate the Canadian Charter of Rights and Freedoms by restricting private, for-profit health care.
CHC is leading the campaign to inform Canadians about this important charter challenge.
The issue
At stake is the principle that all Canadians should receive health care based on what they need, not what they can pay. Allowing private, for-profit care to operate unchecked would erode the quality of health care in Canada. A two-tier system would:
allow physicians in private clinics to "cherry pick" low risk, paying patients who can be treated quickly with straightforward medical interventions, while leaving serious, chronic or complex cases to the already strained public system;
worsen wait times for the majority of Canadians by removing physicians from the public health care system and giving preferential treatment to those who pay for care; and,
prioritize profits over people by allowing publicly-funded doctors to set their own fees in for-profit clinics and private insurers to make money off of publicly-covered care from wealthy citizens ready to pay for care.
Canada's public health care system requires improvements to better meet the needs of today's populations. Solutions can be found in accessible community-based primary health care, enhanced health promotion and disease prevention, a national public drug plan, a comprehensive senior's care strategy, and collaborative care provider teams — not privatized U.S.-style for-profit care.
Defendants
The defendants are the B.C. Minister of Health, the attorney general and B.C.'s Medical Services Commission.
In 2012, the B.C. Ministry of Health released an audit report that determined extra billing occurred at Dr. Day's Cambie Surgeries Corporation and the Specialist Referral Clinic (also in Vancouver). Extra billing is when a medical practitioner directly bills an insured patient for a medical service that is available in the public health plan. The audit also found instances of double billing where taxpayers are paying for services billed to the provincial plan, when patients were also billed directly. Such billing practices are prohibited by the province's Medicare Protection Act (articles 14, 17, 18, 45) and the federal Canada Health Act (article 3).
Intervenors
The B.C. Health Coalition, Canadian Doctors for Medicare, the B.C. Anesthesiologists Society, and the federal government have intervenor status in the case and will participate directly in the litigation, as well as two individual patients supported by the B.C. Nurses Union and two B.C. physicians.
Timeline
The challenge will be presented before the B.C. Supreme Court, beginning on September 6, 2016.
Although this case is being heard in British Columbia, experts agree the case is likely to be appealed and end up in the Supreme Court of Canada, making it relevant to everyone in Canada. Similar challenges to Medicare are developing in other jurisdictions, such as Quebec, Ontario and Alberta.
Take action
By applying significant public pressure, we can safeguard the values entrenched in provincial/territorial and federal health acts: safe, quality and equitable health care for all Canadians.
The CHC has borrowed from the powerfully engaging Humans of New York series and bringing you Humans of Health Care! Canada's health care system works for millions of people every day. Their stories aren't often widely told because it's just the system doing its job. Through this feature we are bringing you stories of real people helped out in times of great need by our health system. You can read these inspiring stories here.
Click on "Tweet this" below to let your networks know you support Canada's public health care system. The message will open in a new window allowing you to edit if you wish.
Click on the the social media icon below to share the image to your friends and show your support for Canada's public health care system.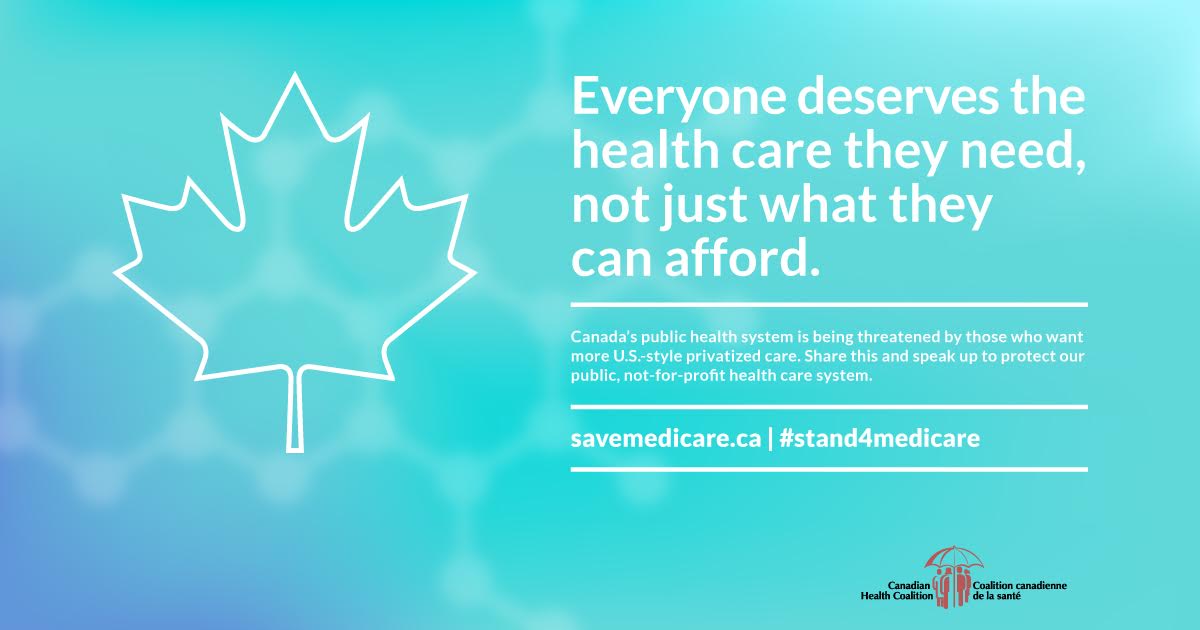 Share your opinion with your local newspaper by submitting a letter to the editor or op-ed. Read our guidelines and tips before you get writing.
Further reading
Cambie Corp. Goes to Court (Colleen Fuller for Canadian Centre for Policy Alternatives, 2015)
Medicare vs. Privatization backgrounder (CHC, 2016)
Q-and-A (CHC, 2016)
The Legal Attack on Public Health Care (B.C. Health Coalition, 2016)
Reducing surgical wait times – The case for public innovation and provincial leadership (Andrew Longhurst, Marcy Cohen and Dr. Margaret McGregor for CCPA, 2016)
B.C. Ministry of Health Specialist Referral Clinic and Cambie Surgeries Corporation Audit Report (2012)